YMCA Basketball for kids K-8th grade continues through June 5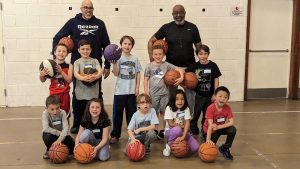 Spring 2023 YMCA Lawrence Basketball at Presbyterian Church our popular Kids Basketball program with the Capital Area YMCA, for grades K – 8,  is underway again and there's still time to take part.  This basketball clinic is designed to develop fundamental basketball skills while learning teamwork, strategy and sportsmanship.
Monday evenings through June 5
Grades K – 3 meet from 6 to 7 pm; Grades 4 – 8 meet from 7 to 8 pm in the Fellowship Center
For more information or to register, see flyer here.